Heather Homes
Automotive Service Technician Foundation Program
Entry Level Grad
I recently graduated from the ELTT (Foundation) Automotive Service Technician program. Being in this course has taught me lots about the automotive field. The instructors are great at teaching you how to fix automotive problems. During this course I got to work on live customer vehicles. There is quite a bit of hands-on training which is really good - the information really stuck. Women are getting into the field which is great to see. I would suggest if you are a... more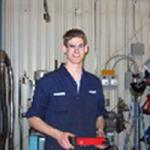 Andrew Nagtegaal
Automotive Service Technician Foundation Program
Automotive Journeyperson Technician
I attended the ELTT (Foundation) Automotive program at VIU. Coming here was a great experience for me. The shop uses many customer vehicles to work on, so it is live, hands-on work. The instruction is great and provides a good environment for learning. I recommend this course to anyone who likes mechanics.
Joseph Clifford
Automotive Service Technician Foundation Program
Automotive Journeyperson Technician
Attending the Automotive ELTT (Foundation) program was one of the best decisions I made. The hands-on, and theory of the program helped me get a position in the automotive industry and I had a great time with the new people I met. Gary Doolin is an excellent instructor and easy to get along with. I highly recommend this course for anyone who enjoys working with their hands.
Jarrod Brown
Automotive Service Technician Foundation Program
Vancouver Island University is a great place to go to school, from the views, to the people. The college really has it all. During my time in the Foundation Automotive Technician course, I have made new friends, while aquiring knowledge. The Foundation course is great for anyone with basic mechanical knowledge to the person who doesn't know what a screwdriver is. The 10 month course teaches, mechanics as well as job skills, Safety skills, and Communication skills. I recommend this course to... more
Bill Dean
Automotive Service Technician Foundation Program
Entry-Level Grad, Journey Person Technician, Automotive Business Owner
The Automotive technician ELTT (Foundation) program is an excellent way to start a career in the industry. I can't recommend it highly enough. The program covers everything from basic shop skills right up to the inner workings of the automobile. For me it was like unraveling a mystery. Moving from knowing what a component does, to understanding WHY it does that, and how to make sure it keeps doing what it should... more
Al Babuin
Automotive Service Technician Foundation Program
In 2009 – 2010, I attended the Automotive Service Technician Entry Level Program at Vancouver Island University College.  While I was there , I found it to be an outstanding experience. The instructors went above and beyond to ensure that the students understood the material that was presented to them.  During practical hours the instructors were always available to assist the students while they were working on the vehicles.The shop facilities are top notch.  Students have all the latest... more
Julie Postma
Automotive Service Technician Foundation Program
I just completed the Automotive ServiceTechnician course at VIU 2009/2010. It was a great experience. I am a girl so I was a little worried about learning this trade that is so often run by men. But I took the jump, and loved it. Both the teachers were great! They both really tried to help us learn it for ourselves in the way we learn best, which I find important. I would recommend this course to everyone! You learn so much in a fun and safe environment.