*Please note that the former Applied Business Technology program is now running under the new name Office Administration.
Annette Woolfe
Applied Business Technology
The Applied Business Technology (ABT) program, Administrative Assistant specialty, provided the perfect combination of skills, experience, confidence, and discipline. The instructors, support staff, and administers of this program all contributed their professional and personal time and efforts in manners far beyond what is simply required toward making this success reality. The instructors are knowledgeable, supportive, and personable; the program covers an extensive range of the... more
Amandeep Badyal
Applied Business Technology
I graduated from ABT-Administrative Assistant course. This course gave me confidence, skills and a career, exactly what I needed after being out of school for almost ten years. Skills that I learned from this course are essential in any and every business. ABT not only updated my skills in this demanding business world but also opened doors to various career paths. I got a job within two months from the time I started to look for work. I love my job. I wanted to let all the new students know... more
Rachael Richards
Applied Business Technology
The ABT Accounting Assistant specialty gave me the confidence to succeed in a new career. Not only was there in-depth training in the accounting aspect but as well as word processing, spreadsheets, databases, and interpersonal skills. The program covers a broad range of topics that are implemented within various sizes and types of office settings. I immediately found employment after graduation, and recommend this program to anyone who is looking to make a career in an office environment.... more
Melanie Denman
Applied Business Technology
One of the best decisions I made was enrolling in the Applied Business Technology Program. After working over ten years in the retail industry, I wanted a change. This program covers everything you need to know to be the best office assistant; from MS Office programs, to organization and filing, to personal development. All the things that make-up the program are a set-up for success in the office industry. Before I even completed the program, I found employment at my dream job. I have... more
Rebecca Parker
Applied Business Technology
At the end of my ABT Program, I completed a six-month internship, where I had the amazing opportunity to apply my newly acquired skills for the modern office. I used every aspect of our classroom training. I was asked to produce many Word documents and persuasive letters, mail merge, filing, receive and distribute mail with notation, memos and faxes and internal letters. I was also secretary for the Health & Safety committee meetings taking minutes. I produced a newsletter entirely on my... more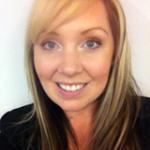 Jill Watt
Applied Business Technology
Graduating from the ABT program at VIU definitely made a positive impact on my future.  I found employment immediately and love my new career.  Having a recent education in computers is a huge asset to any employer; it is rewarding to be able to make a real contribution in the workplace.