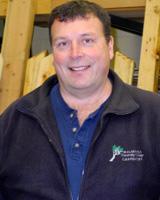 Mike Braun, Carpentry Instructor
Mike has been teaching Carpentry Foundation and Apprenticeship at VIU since 2001. A Red Seal Carpenter since 1988, he also has his Provincial Instructor's Diploma. Mike worked for his family's construction company as soon as he was able to go to work, and the experience helped foster his desire to instruct. He finds sharing his knowledge of the trade very rewarding, and he is motivated to see students eventually complete the red seal program.
Phone: (250) 740-6449, Local 6449
Email: Michael.Braun@viu.ca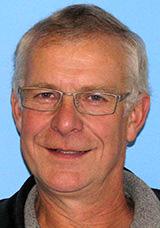 Jim Cooper, Carpentry Instructor
Jim started working in construction over 40 years ago, first with his father, and then working with companies in Vancouver and on Vancouver Island. He earned his Red Seal Carpenter certification in 1978 and has worked building banks, retail stores, condos, and custom homes, doing everything from concrete to cabinets. He has been a labourer, supervisor of subdivision developments, and operated his own home building and renovation business. Jim began teaching Carpentry at VIU in 2005, after completing a B.Com degree at Royal Roads University and then completing the Provincial Instructor's Diploma Program. He recently studied teaching and learning theory at Athabasca University, and he finds teaching very rewarding. He enjoys seeing the students get the same satisfaction and fulfilment from carpentry that he does.
Phone: (250) 740-6449, Local 6449
Email: Jim.Cooper@viu.ca
Stephen Pelley, Carpentry Instructor and Department Chair
Originally from California, Stephen came to the coast for the beauty, the Orca whales, and the work. He's loved using tools and building stuff since he was a kid and he likes to watch students grow, mature, and move onto to successful employment. He's worked on many local projects, including Woodgrove Mall, Dover Bay Secondary School, Nile Creek Bridge, and The Beacon at Cameron Island. He's been an instructor for VIU's Apprenticeship and Residential Construction Program since 1993, has his Trades Qualification in Carpentry, and his Provincial Instructor's Diploma.
Phone: (250) 740-6129, Local 6129
Email: Stephen.Pelley@viu.ca
Dean Vinden, Carpentry Instructor 
Dean was trained in cabinet making and millwork in England, and worked in many aspects of carpentry.
After moving to Canada in 1992, he gained his Carpentry Red Seal while working in custom and multi-family residential construction, and in 2003, his experience in concrete forming, framing and finishing and project management, helped him form his own custom home construction company.
In 2013, Dean became an instructor at Vancouver Island University. He believes that a passion for the subject matter is the foundation for effective teaching, and is excited to be working with the students as they gain skills, and then apply them in their careers.
Phone: (250) 740-6304, Local 6304
Email: Dean.Vinden@viu.ca
Cam Frenette, Carpentry Instructor
Cam attended VIU for all four years of his Carpentry training to achieve his Red Seal in the trade.  Before teaching at VIU, Cam had a brief stint teaching elementary school.  
The majority of Cam's experience in Carpentry was with a large local contractor.  He has worked in residential and commercial framing and concrete forming.  Cam has built houses, apartments, cabins, schools, commercial retail space and has worked on many other projects but his favourite thing to build is concrete stairs.  
Coming from a family of carpenters, Cam has had an awesome opportunity to be raised and mentored in the trade by his own family. His father and older brother are carpenters and Cam still loves finding time to work alongside them.  He also acknowledges that he has been really lucky to mentored by some great carpenters at a local contracting firm.  
The Carpentry program at VIU covers so many different topics and aspects of the trade.  Every day Cam gets to see new carpenters gain understanding of topics that they have never heard of before.  The future carpenters that Cam teaches every day are reaching mental milestones during every class and Cam says that is an incredible thing to be a part of.