How much time is spent on theory and hands-on practice?
A typical day consists of 2 hours of classroom theory, and 5 hours in the automotive shop, Tuesday to Friday
What about tools?
A starter tool box is loaned to you for the duration of the program. You are responsible for it, and must replace or pay for missing or damaged tools. However, students may bring their own tools. Coveralls are also supplied.
Am I allowed to work on my own vehicle in the shop?
Only if the type of work that is needed on your vehicle has been covered in the classroom.
How do I get an apprenticeship?
Upon completion of the Automotive Service Technician Foundation Program, you will look for a position at an automotive shop or dealership. You and your employer will apply to the ITA for an apprenticeship registration number. Learn more about the Automotive Apprenticeship.
Do I have to complete the entire apprenticeship program?
Because you completed the Automotive Service Technician Foundation Program, you may be accredited with the first year theory portion of the apprenticeship, and be eligible for up to six months of practical work. This means you do not have to come back to the college for first year apprenticeship training.
What do I need to be successful in the program?
A strong desire to work on vehicles and a keen interest in automotive systems; good communication skills; high school completion.
Can I take the course on a part-time basis?
No, this is a full time program - good attendance is mandatory.
Will I have to travel in order to find employment in this field? If so, where would this be?
Each year some students find work in the Central Vancouver Island area, but others move to areas with greater job opportunities such as northern BC and Alberta
What is the average class size?
18 students.
Does this program qualify for financial assistance?
Yes. You can apply for the government student loan and grant program. You may also qualify for institutional scholarships and bursaries. Check with the Financial Aid & Awards office, located in building 200 at the Nanaimo campus, or call 250.740.6423.
Does this program ladder into any other Trade, College or University programs?
Yes. After completing this program and acquiring an apprentice sponsorship through an automotive business, students can then apply to VIU registration department for credit towards, the first year (six week) technical training, and six months practical time of the four year Interprovincial Journeyman Automotive certification. Note: The technical training required to complete a four-year Automotive Apprenticeship is also available at Vancouver Island University.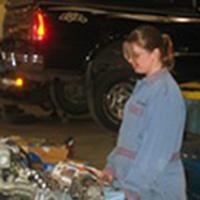 Heather Homes, Automotive Service Technician Foundation Program
"I recently graduated from the ELTT (Foundation) Automotive Service Technician program. Being in this course has taught me lots about the automotive field. The instructors are great at teaching you how to fix automotive problems. During this course I got to work on live customer vehicles. There is quite a bit of hands-on training which is really good - the information really stuck. Women are getting into the field which is great to see. I would suggest if you are a woman and are thinking about taking the automotive course to just do it. I did and I loved every minute of it."