The Heavy Equipment Operator Certificate Program includes the Road Builder & Heavy Construction Foundation (4-weeks), the Heavy Equipment Operator Technician (5-weeks), and Machine Operator Training (1-8 weeks, machine dependant) for a total of 10 to 17 weeks of instruction. Students will be granted a Foundation and Technician Certificate as well as a machine(s) speciality certificate(s). Graduates will gain knowledge and skills in both a classroom and hands-on setting that will help them to be successful as they continue within the industry.
The Heavy Equipment Operator Certificate Program includes the following 4 programs:    
(RBHC 101T) Road Builder & Heavy Construction Foundation (4 weeks)
This 4-week course has been developed with the support of the BC Road Builders & Heavy Construction Association as a pre-employment program. It gives an overview of the industry including: safe work practices, environmental requirements, orientations to equipment and tools, and introduction to principles of civil engineering. The Foundation program will satisfy the pre-requisite requirements for the ITA HEO Technician (Apprenticeship) program. The following certifications are provided:
Occupational First Aid, Level One
Traffic Control
Workplace Hazardous Materials Information Systems (WHMIS)
ITA Certificate of Completion
(RBHC 201T) Heavy Equipment Operator Technician (5 weeks)
This is an SkilledTradesBC apprenticeship program for those pursuing a Certificate of Qualification for the operation of one or more types of heavy equipment. Graduates will be registered apprentices and can then begin 'logging' the operating hours and competencies required for endorsement. Hours may be obtained through our HEO Machine Training or through immediate employment in the industry. This 5-week course builds on the general heavy construction content of the Foundation Program with additional training specific to heavy equipment including:
Worksite health and safety
Types and capabilities of heavy equipment and attachments
Heavy equipment mechanical systems
Basic repairs, maintenance, inspection and monitoring of equipment
Job control and engineering basics, drawings, survey instruments
Environmental awareness and requirements, sediment control
Students will receive orientations to excavator, dozer, loader and articulated rock truck including:
Extensive practical training for pre-operational checks and maintenance
Identification of mechanical components
Operating tips
Three hours (minimum) of seat time on each machine for a total of 12 hours
Specialized Machine Operator Training
1-8 weeks, machine dependent, select one or more machine course codes from the specialized machine operator training below (individual machine training is available):
Learn more about Specialized Machine Operator Training
 Work Experience
At the conclusion of the first 3 phases of the Certificate Program students will go out on work experience. The length of the work experience is four weeks. The expected hours of work for the work experience are dictated by the host company and may be longer than a typical work day if that is the industry standard for the host's industry.
Students are expected to seek out their own work experience in an industry related to the machine they specialize on i.e. Roadbuilding, Heavy Construction, Aggregates, Forestry etc.
Work Experience is typically unpaid, however there are employers who will want to pay the students due to union obligations or their own values. Students are covered by VIU's WorksafeBC coverage while on work experience unless they are paid by the work experience host – in that case they would be covered by the host's WorksafeBC coverage.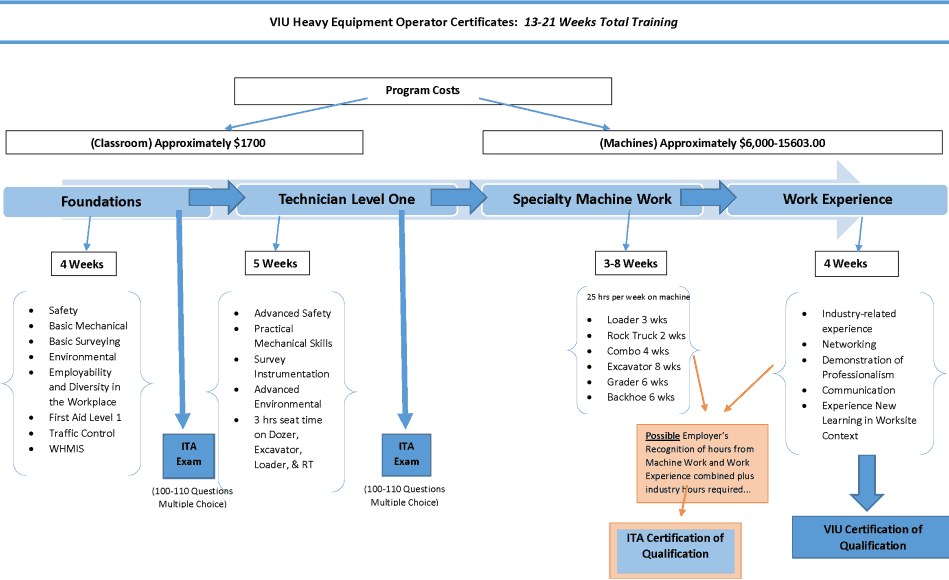 Program Costs
 See current program fees.
Additional Costs
See the list of additional supplies and costs.
Admission Requirements
Career Opportunities
Students who are successful in completion of the Foundation, Technician, and Specialized Machine Operator Training will be well positioned to gain employment as a Backhoe, Dozer, Excavator, Front End Loader, Articulated Rock Truck, Grader, Skid Steer or Dump Truck & Pup Operator. This program has been identified as a preferred pre-requisite by Industry Employers for entry into the Road Builder & Heavy Construction Trade.
Apply
To become a student in the Road Builder Foundation & Technician Certificate Program, apply to VIU.