Full tuition fees are due 90 days before the start date of class, should you not pay these fees on time, you may find yourself withdrawn (without being notified) and charged a 10% late fee.
Your online student record is your toolbox of self-serve resources. Once you are provided with a VIU Student Number you can access your online student record as follows:
Login: My Student Record
Enter your VIU Student Number and read the note on the screen about how to set your Student Record Password.
Click on Log in to My Student Record
On the main page of your record you will see important messages below your name and address. These are updated frequently so please check them each time you log in.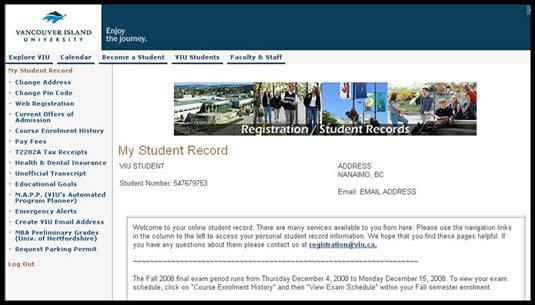 On the left-hand side of the screen is a list of services. Most registration services are available online here; accept offers of admission, pay your fees, update your address, etc. Please become familiar with these tools as they will be very helpful throughout your time as a student at Vancouver Island University.
Fees Due Date
To avoid disappointment of withdrawal or being charged an automatic 10% late fee on the remaining balance of tuition, please ensure to pay your fees on time.
If this is not possible, you must contact the Program and Registration Assistants to have your fee due date extended or be withdrawn. You can reach the one of the Program and Registration Assistants by email: Apprentice@viu.ca or phone 250.740.6227.
If you are unable to pay tuition fees, please advise the Registration Clerk at 250.740.6227 prior to the 90 days to make arrangements, otherwise you may find yourself withdrawn and not notified of the withdrawal.
Fees must be paid directly through your Student Record or through an online banking bill payment. See How Do I Pay? for more information.
If your employer is paying your tuition - see useful information on Sponsoring A Student
Student Fees
The student and activity fees allow you to take part in student programs and activities and provide access to the gymnasium, library, etc. The benefits of membership in the Student Society are available by contacting the VIU Student Union at 250.754.8866 or visiting the office on campus in Building 193.
Students will have additional costs, as required, to purchase texts and course specific supplies.
Student Services Fees
The Student Services Fee will allow VIU to provide services and supports for students that are comparable not only with universities in BC but across Canada and around the world.
Services covered
Student Health Services: To allow VIU to meet the demand of its students for increased access to medical care and for different services, including mental health services and support for students with disabilities.


Experiential Education: the fee will allow VIU to provide experiential (real-world learning experiences) for all students through the newly established Centre for Experiential and Co-Curricular Learning (formerly the Campus Career Centre). The Centre will create new opportunities for experiential education, develop new opportunities for paid employment off-campus, and introduce a Co-Curricular Record to all students.


Digital Access: the Fee will allow VIU to provide students with access to a Technology Lending Library in the Learning Commons where students will find the latest hardware (like tablets, laptops) and software (like voice-to-text, time management, word processing, etc.).
Refund Policy
Up to the end of the first week of class, full refund minus $200
After the first week of class, no refund is available