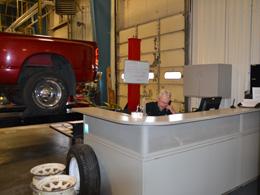 If you would like to have your vehicle repaired or serviced at our shop, please consider the following:
We do not work on vehicles 15 years older than the current model year.
We do not perform any autobody repairs.
We choose work that fits the current curriculum of our programs.
Any customer of the VIU Auto Shop must read the following Customer Service Agreement and then sign a log book, acknowledging agreement with our service procedures.
Customer Service Agreement
I understand that I will be providing my vehicle for student training purposes
I understand that the job may take considerably longer than it would at a regular automotive repair facility
I will not hold VIU Auto shop to any verbal time estimate that may be made at the start of a job.
I realize that only work that meets requirements for curriculum will be done on my vehicle. An instructor or shop technician will decide what work will be performed.
I am aware that my vehicle may be used for an instructor led demonstration of a particular component, system or diagnostic routine.
My vehicle will be repaired as a result of diagnoses performed at VIU Auto shop. I understand that I cannot order repairs that are based on my own diagnoses.
My vehicle is privately owned, not commercially licensed, and not a fleet vehicle. I am not selling this vehicle or component for profit.
I will not hold the VIU Auto shop responsible for any theft or damage that occurs outside of scheduled classes.
I will not hold VIU Auto shop to any verbal cost estimate.
I understand that VIU Auto shop is not responsible for storing my vehicle after work has been completed, and that my vehicle may be disposed of if left without permission for more than 30 days after the work is completed.
All vehicles brought in for service must have valid and up-to-date insurance, decals, and registration.
Warranty Information
Like any automotive repair facility, the VIU Auto shop occasionally fails to fully repair a vehicle.
The VIU Auto shop is a non-profit educational repair facility:

If the warranty request fits into our current program curriculum, we may "short list" you into that program.
If the curriculum does not address the needed repair, we will priorize your repair to a future class.
If the vehicle must be repaired immediately, you should have it repaired at your own cost at a commercial repair facility.
Billing
When picking up a vehicle, after servicing, payment is required in full using either:

Debit card
MasterCard / Visa

Parts needed for vehicle servicing will be ordered from local auto parts stores. No used parts will be ordered or supplied by the VIU Auto shop.
Good Work Assurance
All work is inspected by an instructor
Any safety related work (brakes, steering e.t.c.) will be road tested by the student or students who worked on the vehicle, and an instructor or shop technician.
Your feedback helps us evaluate our students. Please let us know how we did, while servicing your vehicle.
If you agree with the information listed above, and you would like to enquire about having your vehicle booked into the VIU Auto shop, please do the following:
Phone 250-740-6453, 8 am to 12 pm, 1 to 3:30 pm, Monday to Friday, and speak to a Service Advisor.
Have the make, model and year of your vehicle at hand.
Describe the type of work you require, or the symptoms of the malfunction.
If program curriculum needs your vehicle for student training, you will be given an appointment date.