What are the costs of books and supplies?
The approximate cost of classroom textbooks and supplies is $540. If you have to buy a carpenter's apron with appropriate tools, safety boots, hard hat, and rain gear, allow another $500.
(All fees are subject to change without prior notice.)
What kind of equipment is required?
Tools and safety equipment are required, including hardhat, steel-toed boots, safety glasses, rain gear, carpenter's apron, hammer (20-22 oz.), 25 foot measuring tape, combination square/ speed square, chalk line, utility knife, and a nail puller. Please note it is recommended that you wait to purchase any items until after a lecture and demonstration in the beginning of the program.
Does this program qualify for financial assistance?
Yes.
You can apply for the government student loan and grant program. You may also qualify for institutional scholarships and bursaries. Check with the Financial Aid & Awards office, located in building 200 at the Nanaimo campus, or call 250-740-6423.
Does this program ladder into any other Trade, College or University Programs?
Yes.
After completing this program and acquiring an apprentice sponsorship with an industry professional, students can then apply to their Apprenticeship office for credit towards, the first year (six week) technical training, and six months practical time towards the four year Interprovincial Journeyman Carpenter certification.
Note: The technical training required to complete a four-year Carpentry Apprenticeship is also available at Vancouver Island University.
Will I have to travel in order to find employment in this field?
No.
On average, what percentage of the graduates find employment in this field?
90-100% of those who want to continue working in the trade, and are willing to promote themselves.
VIU Carpentry graduates generally have a professional attitude, a higher level of safety awareness, good skill level, and are well informed on the understanding of how to be successful in the building industry.
How many students are admitted into the program each September intake?
18 students. Women as well as men have enjoyed great professional and personal satisfaction upon completing this program.
What is the weekly time schedule?
Monday to Friday, 8 am to 2:45 pm.
With a 15 min. coffee break from 10 am to 10:15 am, and a half hour lunch break from 12 pm to 12:30 pm.
What holiday or reading breaks do you have over the 8 month instructional period?
There are no reading breaks. Holidays, are the normal British Columbia government statutory holidays.
Can I access this program on a part-time basis?
No.
How much homework should I expect?
From September to when we start full time house construction off campus in mid November, approximately 2-3 hours a night.
Then while working full days out on the student house project, 1/2 hour a night.
During separate times when we are back at the college classroom full time, learning about the next individual phases of construction, (example: floor, wall, and roof framing) approximately 1-2 hours homework a night.
A major homework assignment for the program consists of a complete set of house drawings, designed individually by each student and with enough information to apply for a building permit.
How are students usually selected for the program?
By successful completion of a math/reading assessment test, and personal profile.
What is the format of the assessment test?
Math
Decimals, fractions, percentage and word problems.
Area, perimeter/circumference and volume of circles, rectangles, and triangles.
Metric units/Imperial units.
Reading
26 short readings with multiple choice answers.
Composition
Write 2-4 paragraphs on a given topic.
If you feel that you would like to have free tutoring, or get free materials to study for the math/reading assessment test, drop in at:
The ABE Learning Centre in the Developmental Education Building 205 Room 204. For times call 250.740.6416.
May I write the assessment test more than once?
Yes. After a period of a month, one re-write is allowed.
What can I do to increase my chances of getting into this program?
Possibly gain experience working in any area of the building industry.
Fulfill all the admission requirements by, successfully completing the Math/Reading assessment test and personal profile.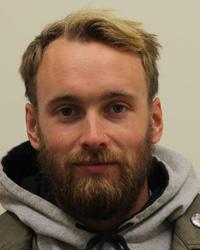 Josh Anderson, Apprenticeship and Carpentry
"At VIU here in Nanaimo, I always feel amongst friends and family. Sure, they give you a student number, but never treat you like one. Tanya Reiber and the VIU trades department in particular knows you by name and will always go out of their way to let you know of available seats in upcoming classes. VIU has so much to offer and my short time spent on campus is just a taste of the opportunities that wait for me on my return."