What is the Culinary Institute of Vancouver Island?
The Culinary Institute of Vancouver Island is the Institute within Vancouver Island University that focuses on training and courses involving food. Vancouver Island University has 3 campuses (Nanaimo, Cowichan, tiwšɛmawtxʷ) and 2 more facilities (Deep Bay Field Station and Providence Farm) that deliver culinary professional development and training. We train students in our Baking and Pastry Arts program at Nanaimo Campus. We also assist in high school training programs through ITA Ace It and CTC/Headstart programs. Our mission is summed up in the following words: Feed Your Passion, Taste Success!
What are the costs of books and supplies?
In addition to textbooks and courseware, Culinary students are required have their own to have a set of professional quality knives, piping bags, a name tag, safety goggles, and neoprene gloves. This equipment is available at the Vancouver Island University Campus Store at the Nanaimo campus. Culinary students must also have non-slip, non-permeable sturdy shoes to wear in the kitchen and must be purchased off site.
See Culinary Arts program fee and supply cost information.

What types of jobs will I be qualified for after I graduate?
While enrolled as a Culinary Arts student you will have a summer paid co-op (practicum placement) that is matched to your ambition, skill and personality. We screen our culinary students and employers so that our culinary students are successful and our employers want to hire you. Our Culinary Arts graduates find employment in many different locations and settings. The employment options are quite varied: for example, our Culinary graduates continue their apprenticeships at five-star hotels, resorts and restaurants while others work at camps and care facilities.
Does this program qualify for a student loan?
Culinary Arts students can apply for the government student loan and grant program. You may also qualify for institutional scholarships and bursaries.
Check with the VIU Financial Aid and Awards office, located in Building 200 at the Nanaimo campus, or call 250.740.6423.
You should apply early, as you will need your uniforms, knives and books at the start of the program.
Does VIU have information on where to live?
See VIU Residences for information on Campus housing.
Does this program prepare me for certification with any other agencies?
You will be given one-year credit towards a cook apprenticeship as well as we will sponsor you as an apprentice during the course. This way, while you are a student if you decide to work as a cook part time, you can count these hours towards the completion of a Culinary apprenticeship.
Does this program ladder into any other University or College programs?
The Culinary diploma has laddering opportunities into the VIU Hospitality Management Diploma and Degree.
Is further training necessary in order for me to enter the job market?
Graduates of the Culinary Institute at VIU's Culinary Arts program leave with a sound knowledge of the basics. To become a recognized chef requires years of work experience.
What can I do to increase my chances of getting into the Culinary Arts program?
High school career culinary arts and food preparation courses and some culinary industry experience would be an asset. Come well prepared to the interview: bring any pertinent documentation, such as letters and grades.
What are the starting wages that a Culinary Arts graduate could expect?
This would depend on where you go to work. Depending on where the student decides to work the starting wage varies from minimum wage and up. Often employers will offer Culinary co-op students recruitment incentives such as golf passes, accommodation and ski passes.
Will I have to travel in order to find employment in this field? If so, where would this be?
There are cooking positions in every town and city. The choice is yours. Our co-op students have found placements locally, across Canada, USA and abroad.
On average, what percentage of the graduates get employment in the field?
Our Culinary students are in high demand. All cook students are employed while on their co-op placement. Some students will return between first and second year of the diploma and some will continue on with their employment. Our Co-op sees Culinary students choosing between more than one employment opportunity. The choice is yours.
What is the average class size?
18 students per instructor per class.
How much homework should I expect if I am a full-time student?
On average, homework would be about one hour per day, but some stages of the Culinary program will require more.
Are students able to compete in any competitions?
You may have an opportunity to experience regional, national and international culinary competitions. Our faculty of chef instructors has a wealth of national and international experience. Each year we send a team of culinary students to compete at the BC Junior Chefs Hot Competition and a regional Cold Salon. Culinary students from the Culinary Institute of Vancouver Island (CIVI) consistently win medals in these culinary competitions. Our students also enter and win recipe competitions. VIU Culinary Arts student success stories and competition press releases.
Can I access the Culinary Arts program on a part-time basis?
Not at this time.
Are there Culinary courses available in the evening?
No. However some students can enroll or assist a chef instructor in courses offered through VIU Professional Development and Training.
Does this program offer Prior Learning Assessment?
Yes. Our Culinary Arts Certificate Program will give culinary students credit to hours spent in Level One ACE IT training. Our Culinary diploma is offered to graduates from other one year Culinary Programs.
What is a typical weekly schedule in the Culinary Arts Certificate Program?
Depending on the section you are assigned to, the times are usually:
Orientation: 7:30 am - 1:45 pm or 2 pm – 8:15 pm (Monday - Friday)
Garde-manger: 7:30 am - 1:45 pm (Monday - Friday)
Breakfast and Meat cutting: 7:30 am - 1:45 pm (Monday - Friday)
Pastries: 7 am - 1:15 pm (Monday - Friday)
Meat cookery: 7:30 am - 1:45 pm (Monday - Friday)
A la carte: 1 - 8:45 pm (Tuesday - Friday)
How many people usually apply to Culinary programs VIU?
The program at the Nanaimo Campus of Culinary Institute of Vancouver Island begins January, February and August. Cowichan begins February. Powell River begins September. Please see Certificate admission requirements. Currently there is no wait list.
Culinary Arts Diploma Program
The second year of the Diploma begins mid-September. See Diploma admission requirements. Currently there is no wait list.
Culinary Apprenticeship
Apprentices and alumni who continue their work-based training in an apprenticeship can register for their level upgrades. See VIU Apprenticeship Programs. 
How many students are admitted into the Culinary program each intake?
August: 54 culinary students
January and February: 18 culinary students
Second year does not have any limits at this time.
How are students accepted into the Culinary programs?
Students must meet the admission requirements for each year.
Should I apply for the Culinary program if I do not have all the prerequisites?
Yes you can. Often our Culinary Arts students are finishing high school credits or high school upgrading courses to meet the requirements. Often cook students are accepted on the condition that they have met the requirements by the time the course starts.
What is the format of the Culinary assessment test?
Questions relating to cooking. They deal with recipes, conversion and comprehension. See VIU Assessment and Exam Invigilation Services.
May I write the assessment test more than once?
Yes.
If I am not admitted into the Culinary program this year or am waitlisted, can I take any classes that will give me credit in the program?
Not at this time.
Is fieldwork or a practicum available in the Culinary program?
Yes. Our culinary students participate in minimum two months paid co-op placement during the summer of each year of the Culinary Arts Diploma Program (Certificate is first year) at the Nanaimo Campus. This is a valuable opportunity for culinary students to gain workplace experience and log apprenticeship hours. A practicum is also part of the Cowichan Campus and the tiwšɛmawtxʷ Campus Curriculum.
If I don't get accepted into the Culinary Arts program this year, can I apply again next year?
Yes. Currently there is no wait list.
What other expenses will I incur while I am taking this program?
General living expenses.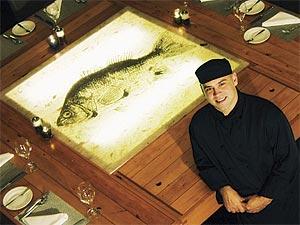 Sean Riley
A west coast native, Sean went on to apprentice with the Canadian Culinary Olympic team. Sean worked his way to Toronto and completed training with Jack Lamont and superchef Susur Lee.
Read more about Sean's experience