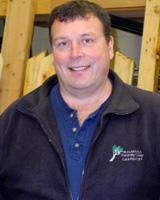 Mike Braun
Carpentry Instructor
Mike has been teaching Carpentry Foundation and Apprenticeship at VIU since 2001. A Red Seal Carpenter since 1988, he also has his Provincial Instructor's Diploma. Mike worked for his family's construction company as soon as he was able to go to work, and the experience helped foster his desire to instruct. He finds sharing his knowledge of the trade very rewarding, and he is motivated to see students eventually complete the red seal program.
Phone: 250.740.6449, Local 6449
Email: Michael.Braun@viu.ca 
Cam Frenette
Carpentry Instructor and  Department Chair
Cam attended VIU for all four years of his Carpentry training to achieve his Red Seal in the trade.  Before teaching at VIU, Cam had a brief stint teaching elementary school.  
The majority of Cam's experience in Carpentry was with a large local contractor.  He has worked in residential and commercial framing and concrete forming.  Cam has built houses, apartments, cabins, schools, commercial retail space and has worked on many other projects but his favourite thing to build is concrete stairs.  
Coming from a family of carpenters, Cam has had an awesome opportunity to be raised and mentored in the trade by his own family. His father and older brother are carpenters and Cam still loves finding time to work alongside them.  He also acknowledges that he has been really lucky to mentored by some great carpenters at a local contracting firm.  
The Carpentry program at VIU covers so many different topics and aspects of the trade.  Every day Cam gets to see new carpenters gain understanding of topics that they have never heard of before.  The future carpenters that Cam teaches every day are reaching mental milestones during every class and Cam says that is an incredible thing to be a part of.  
Phone: 250.713.0243
Email:  Cameron.Frenette@viu.ca