Joanne Slocum

Instructor / Chair
Joanne began her hairdressing career as young child, practicing on the cat's whiskers, her Barbie dolls and any willing participants who would allow her to experiment with their hair. It was no surprise to her family, when she followed her passion and love of hair by obtaining her Hairdressing license in 1993. Joanne immediately began working behind the chair next to some of the industry's finest mentors while pursuing extensive education and eventually fulfilling her entrepreneurial side, opening and operating her own successful salon. After several years behind the chair, she embarked on her first educator role as a Hair Colour Technician for Goldwell Canada, where she discovered a love and aptitude for teaching. It was a natural progression for Joanne to transition into full time instructing at VIU in 2013. Embracing her new role as an educator, she completed her Provincial Instructor Diploma and Red Seal prior to moving into the Department Chair position in 2019. Whether it be through VIU's Teaching and Learning Center or through industry itself, Joanne continues to fulfill her commitment as a life-long learner by pursuing on-going education. In addition, she plays a key role as a Skills Canada educator, having trained several students to compete while achieving Gold, Silver and Bronze medals at the Provincial level. Training then the Gold metal recipients to compete at the National level. Joanne, along with colleagues Sandra Moreside and Sally Vinden was the proud recipient of a Provost Teaching and Learning award for Excellence in recognition of: Teaching Design and Practice that Employs Innovative Practices for Student Learning; a first for both Joanne and the Faculty of Trades. Joanne's strong belief that student success stems from a combination of strong fundamental foundational skills and critical thinking, enables her students to flourish under her guidance through the ever-changing field of hairdressing. She may even nudge you into a competition! When not engaged in teaching and learning, Joanne can often be found hiking and exploring nature with her family and two rottweilers, Duke and Daisy.
Phone: 250.740.6218, Local 6218
Email: Joanne.Slocum@viu.ca
Arden Magtiz
Front End Instructional Assistant/Instructor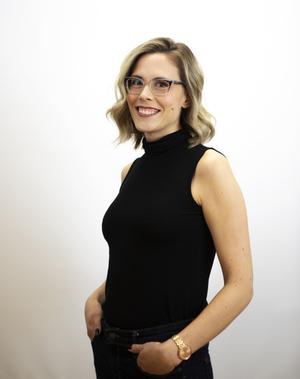 Arden, our multi-tasking master; divides her time between instructing and operating the teaching salon's busy front end. As a stylist of 13 years which included salon management Arden has brought a wealth of experience to the department since 2011. Arden's upbeat energy (which includes a flair for dancing), is driven by her innate enthusiasm for preparing newcomers to the Hairdressing industry. After obtaining her Red Seal in 2017, Arden joined forces with her colleague Joanne as an assistant trainer in the renowned Skills Canada program, preparing and supporting students in competition work. Outside the department, Arden balances her time between being a mom to two boys and two dogs, working one day per week behind the chair in a local boutique salon, and soaking up instructional techniques through her Provincial Instructor Diploma studies. As an avid believer in on-going education, Arden holds numerous certifications from global professional brands, including Keune, Goldwell, Joico, L'Oreal Professional and Redken. Arden's innovative approach to teaching and learning enables her to connect with students and clients alike, shaping her as an integral member of the team.
Email: Arden.Magtiza@viu.ca
Gina Easton
Instructor, VIU Cowichan
Gina, known for her perpetual smile, leads the Hairstylist program at VIU's Cowichan Trades Center and is no stranger to the notion of mentoring and educating.  Upon obtaining her Hairdressing certification through VIU (then Malaspina College) in 1993, she ran her own salon for many years, during which time she mentored many apprentices prior to joining the VIU instructional team in 2013.  Gina holds her Provincial Instructor Diploma as well as Red Seal certification. When she's not teaching, Gina loves to spend time with her family, keeps busy billeting ambitious hockey players, and cheering for the hockey teams.
Email: Gina.Easton@viu.ca
Anatasia Antoniadis
Instructor, VIU Saanich
Anastasia's career began as an apprentice when she was a young teen in her home country of Greece. Upon relocating to Canada working as a master stylist with Regis Hair Design where she trained junior stylists, her ambition to teach was ignited. She simultaneously began operating her own salon, which she successfully operated for twenty years. Anastasia holds a Certificate in Adult and Continuing Education through the University of Victoria, Red Seal Certification along with extensive training in Pivot Point and global brands including Keune, Redken, ISO, La Biosthetique, Goldwell, L'Oreal and Schwarzkopf. She played an instrumental role in establishing the Saanich VIU Hairdressing Program in conjunction with the Saanich School District and where has continued to make a positive impact on young stylists through her teaching since 2010. Anastasia's wealth of knowledge, combined with her creative, energetic teaching practices has successfully guided dozens of new-comers to the industry.
Email: Anastasia.Antoniadis@viu.ca
Leah Babcock 
Instructor, VIU tiwšɛmawtxʷ campus (Powell River)
Leah, a fellow VIU Hairdressing alumni, was born and raised in Powell River. She began her career as stylist in 1999. Very much a "people person", she found her niche of instructing through her desire to connect with people and give back to the community. Leah thrives on guiding newcomers into the industry and takes pride in doing her very best to optimize her learner's experiences. In addition, she plays a key role as a Skills Canada educator, having trained several students to compete at the Regional and Provincial levels. She holds a strong education in her field that includes certifications through Pivot Point, Suki's, Goldwell, Redken and Schwarzkopf. Leah officially joining VIU School District 47 in 2014 as a full time instructor on the VIU Hairdressing team. Leah continues to embrace life-long learning through ongoing professional development.
Email: leah.babcock@sd47.bc.ca