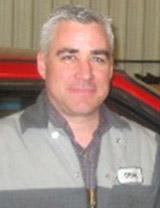 Dean Cadieux
Chair Automotive Program / Chair Motorcycle and Marine Technician
Dean has been an instructor at Vancouver Island University since 2000 and is the Automotive department chair. He holds a BC Instructor's Diploma and has been a Red Seal Automotive Service Technician since 1990. Dean is also Red Seal Certified as a Commercial Transport Technician, Motorcycle Technician, Automotive Parts/Warehousing person and holds a commercial vehicle inspector certification. He has worked as an automotive technician in various automotive dealerships and he keeps current with automotive technology and repair techniques by taking upgrading courses in areas such as hybrid vehicle technology, drivability diagnostics, air-conditioning repair and alignment techniques.
Phone: 250.740.6148, Local 6148
Email: Dean.Cadieux@viu.ca

Barry Benisky
Instructor, Motorcycle and Marine Technician
Barry completed the Motorcycle and Marine Technician Program at VIU (then Malaspina College) in 1985, completed his apprenticeship and became a journeyman in 1988. He is factory trained by Mercruiser, Volvo Penta, Bombardier, Seadoo Watercraft, Honda, and Yamaha. He worked in the Victoria area as a marine technician, shop foreman, and service manager from 1985 to 1999. The instructor he had at VIU impressed and engaged him, and Barry always knew he'd like to teach. He became an instructor for the Marine Technician Program at North Island College in Campbell River from 1999 to 2003, and worked as a marine technician in the Courtenay Comox area from 2003 to 2007. He enjoys teaching this course because it covers so many different types of equipment, from chainsaws to high performance marine engines.
Phone: 250.740.6144, Local 6144
Email: Barry.Benisky@viu.ca