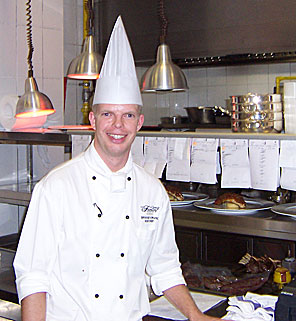 Graham Kruse
Culinary Programs
I graduated from the Culinary Arts program at Vancouver Island University in January 2000. In March 2000, I started work at the Fairmont Jasper Park Lodge in Jasper, Alberta. During my four-and-a-half years at the Lodge, I learned the basics of working in a culinary kitchen in a major hotel. My first position there was as a grill room cook in the Saucier kitchen. Within one month, I was promoted to general cook and gained knowledge and became more comfortable with my culinary skills. In 2001, through Jasper Park Lodge, I started my three year apprenticeship program, and attended Southern Alberta Institute of Technology for my Culinary Journeyman and Red Seal certificates. During my four-and-a-half years at Jasper Park Lodge, I worked in all outlets and departments, except pastry.
I wanted to experience working abroad, so applied for a transfer and got accepted to work at the Fairmont Southampton in Bermuda, in March 2005, at the Whaler Inn dining restaurant. The restaurant was very busy, pushing 200 covers a night, and the kitchen was unbearably hot, with fellow colleagues passing out on line due to the heat and stress. I then transferred to the Waterlot Inn restaurant, a four-diamond restaurant, where I worked all stations for the rest of my time at the Fairmont Southampton.
After Bermuda I traveled through central and south Thailand for about a month, then returned to Nanaimo and got a phone call from a fellow graduate from VIU, who was an executive sous chef at the Wickaninnish Inn in Tofino, and offered me a Chef de Partie position at the Inn. I only worked there for two and a half months, then moved and went to work at Sheraton Mirage Port Douglas, in Queensland, Australia, for a period of six months.
After that I got a position at the Fairmont Dubai in Dubai, and the Exchange on the second floor is now my new home. The floor consists of the Exchange Grill (fine dining), Cin Cin Wine Bar, Cigar Bar and Rum Bar. I am currently the sous chef for the Exchange Grill and Cin Cin. This is a huge stepping stone for my career. I never imagined that after five years from the day I graduated from the Culinary Arts program at Vancouver Island University that I would be a sous chef at a Fairmont hotel in Dubai. I intend to stay here for the next year, and then who knows where my career path will lead me.
September 2008 - Graham accepted the Restaurant Chef position at the Fairmont Beijing