Rita Gower, Chair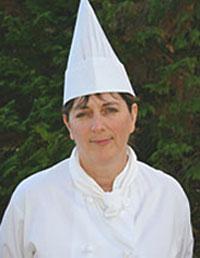 Rita started out in the culinary world as a Red Seal cook, apprenticing under Culinary Olympics luminary Fred Zimmerman in Calgary.  But soon after, Rita realized that baking and pastry were what she really loved to do.  She worked as a pastry cook at two high-end restaurants in London's West End, followed by two years at Vancouver's Meridien Hotel (now the Sutton Place), and two years at Sooke Harbour House. Rita has also been the owner/operator of several small baking businesses.  Rita has been at VIU since 2004 working as an instructor in Culinary Pastry and Professional Baking.  She has a Red Seal in Baking and in 2016, achieved a life-long dream by earning a Master's degree in Education. Rita took over as chair of the Professional Baking Program in 2018.
Phone: 250-740-6137, Local 6137
Email: Rita.Gower@viu.ca
Ken Harper, Baking Instructor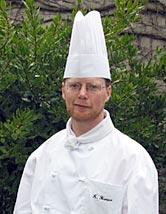 Chef Harper has been Executive Pastry Chef at the Fairmont Empress Hotel in Victoria, and has worked at the Pan Pacific in Vancouver, the Fairmont Chateau Whistler Resort and Fairmont Banff Springs Hotel. He has been a gold and silver medallist in international culinary competitions as an individual, including winning Best Overall Individual Pastry Entry at the Luxembourg Culinary World Cup. He has won awards as a member of Culinary Team Alberta, winning gold at the Culinary Olympics in Germany, and as part of Team Canada, becoming World Champion at the Culinary Grand Prix in Glasgow. He has a passion for ice carving, and goes to several different competitions each winter. He also contributes to many local food events, bringing students to participate in events such as Feast of Fields, Bite of Nanaimo, and the Chefs' Survival Challenge.
Phone: 250-740-6442, Local 6442
Email: Ken.Harper@viu.ca
David Nolan, Baking Instructor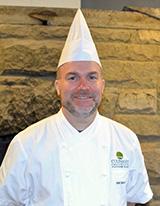 Pastry Chef David Nolan is a Red Seal Baker and Red Seal Cook with over twenty years' experience, and has made several appearances as a guest chef on television shows. He began his culinary career at the age of 14 washing dishes in a small family run restaurant in Brantford, Ontario. After graduating from the Niagara Culinary Institute, he joined Fairmont Hotels and worked in the Canadian Rockies as well as the Empress Hotel in Victoria, BC. While working at the Empress, Chef Nolan taught pastry instruction under Chef Harper at VIU. Chef Nolan then joined Ritz-Carlton Hotels and worked as the Executive Pastry Chef in Montego Bay, Jamaica; Mclean, Virginia (Washington DC); and beautiful Lake Oconee in the State of Georgia. He returned to Canada in October of 2011 to work as Pastry Chef Instructor at VIU. In 2021 he joined the Professional Baking program on a full-time basis where he enjoys helping students succeed in the field he is so passionate about.
Phone: 250-740-6114, Local 6114
Email: David.Nolan@viu.ca