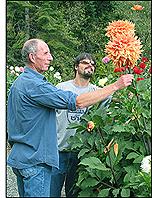 Students in VIU's Horticultural program have the pleasure of working on and studying some of the most beautiful gardens on Vancouver Island. Each year, students install a landscape project that has been designed by the previous year's class. A variety of landscapes have been constructed at the Nanaimo Campus, Milner Gardens & Woodland and at the G.R. Paine Horticultural Centre, and they're also used for program plant identification and landscape maintenance courses.
Funded by Mr. LeVerne Hawken as a memorial to his late wife, Adeline, this beautiful and educational garden was designed and constructed entirely by students in the Horticulture program. It includes a rose garden, fruit trees, a garden for plant identification and plants for propagation labs. Another interesting feature of this rural garden is a 7' high attractive and effective fence around it, to keep out deer (always a challenge on Vancouver Island).
The habitat garden is the third in a series of demonstration gardens installed at the Vancouver Island University's GR Paine Horticulture Centre. The garden was funded in partnership with the Central Vancouver Island Botanical Garden Society (CVIBGS). The garden was designed and constructed over a two year period by the students of the college's Horticulture Technician Certificate Program. The central theme of this 15,000 sq.ft. garden is to work with natural systems and to increase wildlife habitat in an urban setting.
Funded by the Okayama Women's College in Japan, this garden was designed and constructed entirely by students in the Horticulture program, incorporating both Japanese and western gardening styles. It's a harmonious blend of local and oriental materials. West Coast rock and cedar complement Chinese granite lanterns and traditional, twine-tied, bamboo grid fencing. Indigenous plants such as sword and maiden hair fern, Oregon grape and Kinnikinnick grow alongside Japanese maples, Stewartia and Katsura trees. An Austrian pine, pruned for many years in the Japanese style, exemplifies the meeting of east and west in a single plant.
Vancouver Island University gratefully acquired the stewardship of the estate of Ray and Veronica Milner in 1996. Veronica Milner had designed and built her gardens to harmonize with the forest on the property. The Horticulture Department of VIU worked with Veronica for two years in the garden to insure that her spirit and vision were preserved. After Veronica's death in 1998 the Milner Gardens continued to be cared for and restored by VIU Horticulture Students in addtion to a growing number of volunteers. Projects included the restoration of some of the original pond and fountain features of the gardens, the revival of a berry and vegetable garden and the addition of features to accommodate an increasing number of public visitors. A board walk was constructed through the woodland area, the gardener's shed area was improved, and the gardens around the poolhouse were renovated to house the new gift shop and visitor center.
The Horticulture Department at VIU continues to hold many of it's Landscape Maintenance Classes at Milner Gardens where students learn the science and art of pruning, along with garden and turf maintenance in an established garden amidst an old growth forest. As they work they can watch the seasons unfold in the garden. The mass of naturalized Aconitum, the blaze of hundreds of blooming Rhododendrons, the serene blues of the Hydrangea collection later in the year and the brilliant fall colours of Japanese maples all follow in the year's procession of color and fragrance in Veronica's garden. Students also get an opportunity to study plant identification with a collection of mature and unusual plant specimens. The garden includes rare rhododendron species, mature specimens of Japanese maples, Davidia, Strewartia, Katsura, Metasequoia, Fagus, Clerodendron, and Chestnut, as well as other outstanding mature shrubs and vines.
In 2007 the VIU horticulture students in HORT 131T, designed a garden that would be universally accessible and provide students and faculty with an outdoor lounge. This lounge acts as a hub or common gathering area for all who use the Paine Centre. The garden will accommodate 35 people for gatherings and celebrations. It is also available for students to use for lunch, breaks and games such as foot sac, croquet and boules. Areas of shade and sun will provide opportunities to enjoy the shoulder seasons while students are actively pursuing their studies.