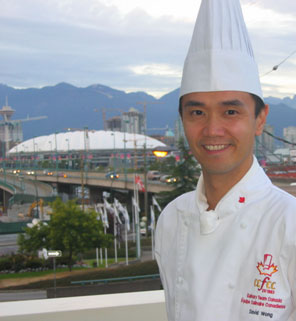 David Wong
Culinary Programs
Product Development Chef - Earls Kitchen and Bar
I was born and raised in Nanaimo, British Columbia, and my love of cooking began very early. Food is central to many Asian families, and mine is no exception. Being involved in preparing traditional foods helped nurture this passion for cooking from when I was very young.
After completing a Bachelor of Social Work degree, my wife and I went traveling. It was the food of Europe which inspired me to change my direction in life and pursue cooking/culinary arts.
I attended the Culinary Arts program at Vancouver Island University. It was here under the tutelage of renowned chef instructors that I found the inspiration and instruction I was looking for. I have always been inspired by those who compete, and found that VIU was the perfect place to be. With the guidance of my chef instructors, I entered my first Salon and won a Gold. Other competitions would follow, including first in the Provincial and National Knorr Junior Culinary Competitions which earned me the opportunity to support Culinary Team Canada in Luxembourg, 2002. This experience allowed me the opportunity to join Culinary Team Canada as a core member in Basil, Switzerland, in 2006. We were awarded top marks in the Hot Kitchen and second place overall.
In June 2006, I entered the Canadian Qualification Competition for the 2009 Bocuse d'Or. After a grueling 5 hour competition my apprentice, Jason Harris, and I were awarded the Victory! I will be representing Canada in Lyon, France, in 2009 and hopefully bringing home a medal!
After a brief stint at the Pan Pacific Hotel in Vancouver, I apprenticed at the Creek restaurant in Vancouver. To complete the apprenticeship I went to work for Chefs Bruce Knapik and Morgan Wilson at the Delta Pinnacle hotel in Vancouver. As Executive Chef at the Fairmont Hotel MacDonald in Edmonton, Alberta, I was involved in catering over 200 weddings a year. After opening and working at the Fairmont Pacific Rim in downtown Vancouver during the 2010 Vancouver Olympics, I returned to VIU as a relief instructor and Chef/Owner of Jar Restaurant in Nanaimo. I returned to Vancouver and now lead the menu and product development team at Earls Kitchen and Bar. My kitchen team includes several Culinary Institute of Vancouver Island graduates.