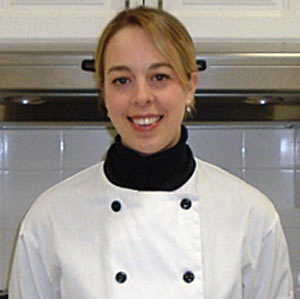 Susan Joseph
Culinary Programs
I started my culinary career at Vancouver Island University ten years ago because, even as a young child, I loved to make pies and tarts with my Mom's leftover pastry. After graduating in 1998, I served my apprenticeship in Oakville, Ontario at a Chocolate and Pastry Shop called "Simply Chocolate" under renowned Chef and Pastry Instructor Kay Wong.
After moving to Richmond Hill in 2003, my journey as a Research Chef began. I was offered a position at a food manufacturing company in Concord, Ontario as a Research and Development Assistant, where I have been ever since. The company that I work for, VLR Foods, makes Phyllo and Puff Pastry, as well as several Hors D'oeuvres and value-added products. Currently, my job title is Senior Research Chef, and I develop products for the Grocery industry.
This year I will become a Certified Research Chef through the Research Chef's Association. In addition, I have now completed my second apprenticeship, and will soon write my Certificate of Qualification for Chef de Cuisine. Although my job involves mountains of paperwork and a good understanding of Food Science, I find it very rewarding. It is a career that I can be proud of, not to mention the pride I feel when I see products that I have developed on grocery store shelves.