Julia B., Stylist
Hairdressing
I went to VIU in 2003 right out of high school. I came from a very small town and was a bit intimidated by the whole experience at first but the teachers and office staff made me feel at home there. Some of them even set up my work experience for me because I wasn't familiar with the area! Since graduating from VIU I have opened my own salon and have been in business for 7 years. I feel like my experience there made me a more confidant stylist. I would recommend VIU to anyone who is... more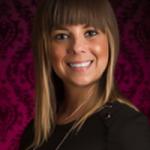 Kamie Williamson, Apprentice, Salon D in Nanaimo
Hairdressing
I completed the Hairdressing program from VIU in June 2012. I have been enjoying my new career as an apprentice since graduation at Salon D in Nanaimo BC. I have been learning new styling, coloring and cutting techniques and I am looking forward to building my clientele at Salon D in Nanaimo BC 250-753-0009
Fanny Wong, Stylist
Hairdressing
Vancouver Island University is recognized by the high reputation it attains in many programs, especially Hairdressing. The main reason why I chose to attend [VIU] is because of the instructors in charge of this program. Their skill and passion for this industry is why this program is so successful. They show that hairdressing is a never-ending learning experience by attending hair shows, seminars and always encouraging students to participate in competitions. Since many salons acknowledge... more
Aimee Sharp, Stylist
Hairdressing
I spent one year of my life in the Hairdressing program at Vancouver Island University, and had many wonderful experiences during that time. I had wanted to become a hairstylist for some time and checked out various schools in the area.
I made my decision to go to [VIU] based on the number of award winning stylists that came from that program. I knew from this that the instruction must be very good. I found the year at school to be very fulfilling. The course load wasn't too... more
Lorne Wallace, Stylist
Hairdressing
My name is Lorne Wallace and I' m a recent graduate of Vancouver Island University Hairdressing Program.
In addition to hands-on training with actual clientele, the Pivot Point based instruction is laid out in excellent texts and visual demonstration on DVD. Perhaps the most pertinent factor in this program is the dedication of the instructional staff. All go above and beyond the normal classroom day to ensure that students are prepared in the field of hairdressing at completion of... more
Barbara Plant, Manager of Regis Salon in Nanaimo
Hairdressing
The [VIU] hairdressing program is an excellent course. I found it to be a year full of challenges and learning experiences I will always remember. The instructors are excellent, they not only train and teach you the trade, they give you the recipe for success; patience, respect, integrity, dedication and ethics. They motivated us to stretch ourselves and to give our very best. We were taught people skills and team work. When we finished our year course I felt prepared and ready to enter the... more
Hair Amour By Lesley Barker
Hairdressing
Do you love hair? Join the club! I have always been fascinated by the thousands of tiny strands, which emerge spontaneously from just about everyone's noggin. There is a select breed of people like this, and they are usually called hairdressers. Some prefer "hairstylists" or perhaps even "hair heroes", but the common factor is -- we all love hair. Let me tell you a bit about the fun I had becoming a hairdresser and what I did once I got there.
Because I always had such a curiosity... more
Elton Joseph
Hairdressing
Hello my name is Elton Joseph and I'm a hairstylist currently working at Roots Hair Salon. I am also a Team educator for Sebastion International Tag. This would have not been possible if not for the guidance and education through [VIU] Hairdressing program and its educators!! While in the fun and intense 12 month program I discovered that I learned so much about myself and what I wanted to do with my life. The program was able to teach me to how to express myself through my art. Which is... more
Jeff Wilkins, J.T. Flair Salon, Nanaimo
Hairdressing
I have been employing graduate students from [VIU] Hairdressing for over 25 years. I can always be sure that the graduates are extremely well trained and quickly feel confident working with clientele. The hairdressing program gets better and better, and I would never hesitate to hire a graduate from Vancouver Island University.